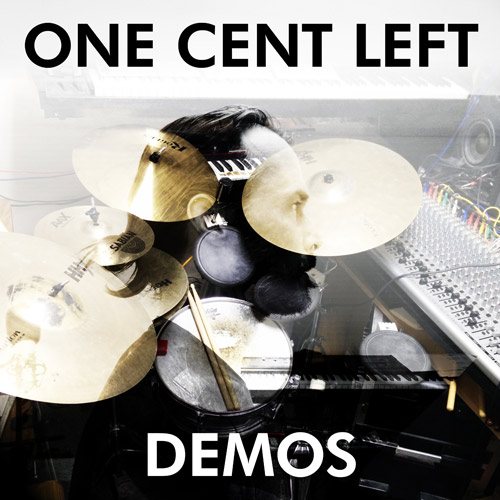 Now on Amazon, Apple Music, Google Play, Spotify, Deezer and more.
One Cent Left: Demos
Released: February 11th, 2018
In 2004, from a cramped and dark basement room, a new and unsettling sound emerged, unheard by all but a few. After the failure to reform 99¢ Special, Exit began writing songs anew, exploring a different musical direction and leaving behind the world of electronic music which had been his passion for 14 years prior.
One of the first songs created was "Open", a simple track with a powerful mornful presence, born of a simple open string pattern that Exit would pluck while falling asleep. It was recorded September 27th, 2005 using a recently acquired Epiphone SG.
The latest song, "Activate My Brain" was created and recorded in a day on February 7th, 2019, and rerecorded two days later. This song had such a force to it that it compelled an immediate release, even in an unfinished state.
Somehow, all these years had passed and not one song has been officially released, even though 3 albums worth of demos have been created. Given that time is rarely a friend, it was time to force a release just to establish the name and make some of the works readily available regardless of the state of completion.
Since Exit has been working alone on these songs, he's had to play every instrument, regardless of level of ability. This leads to some messy drumming or bass plucking on some tracks, which will be replaced on studio versions with performances by those qualified to play drums and bass.
Given that there are no guarantees in life, this release was a way to make a miniscule but indelible mark in the world's catalog of music. Although these songs are in rough states, they each have a life of their own now that they are officially released. Here's to imagining what they will be like once they are all grown up.
Limited Releases
All My Little Words
As of September 21st, 2019.

Activate My Brain [ASV]
As of September 5th, 2019.

All Songs by Exit from 1985 - 2019
As of June 18th, 2019.

Ceremony
As of June 13th, 2018.

The Whole of the Moon [WIP]
As of October 16th, 2017.

Economy of Moves [WIP]
As of May 14th, 2017.

What Ever Happened to Love? [Rough Mix]
As of October 27th, 2014.

Otter
As of August 14th, 2014.

Crisis of the Heart [WIP]
As of January 23rd, 2014.

Timpo [WIP]
As of December 29th, 2013.

Animal [WIP]
As of March 2nd, 2013.

Eager [WIP]
As of February 25th, 2013.

You Don't Know Me Anymore [WIP]
As of January 3rd, 2013.

Ground Floor [WIP2]
As of December 13th, 2012.

Again [Take 1]
As of May 1st, 2005.

This site and its contents are ©2005-2019 H.O.W.D.Y. Media